The Smart Approach to Audit: Investigating how AdvanceTrack uses CaseWare SmartSync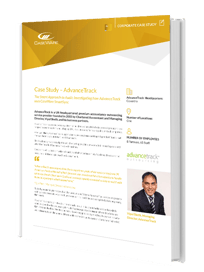 AdvanceTrack is a UK-headquartered premium accountancy outsourcing service provider founded in 2003 by chartered accountant and Managing Director, Vipul Sheth, and his business partners.
AdvanceTrack has grown to employ a team of hundreds of people in India, providing support to a range of accountancy firms including top 20 UK accountancy firms and public limited companies.

Amongst others, AdvanceTrack supports the accounting firms auditing independent Trusts that manage the finances of state-funded Academies.
AdvanceTrack has worked with CaseWare since 2009, they are now able to collaborate in real time with accountancy firms as they audit Academies, reducing days off the time it takes to complete and submit accounts, cutting out duplication and error.
To read more and gain full access to the case study, complete the form adjacent.