Is your charity accounting ready for change?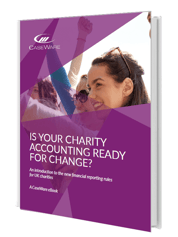 Charities are under more scrutiny than ever, especially with how they run their finances.
In our latest eBook, we examine the changes introduced to charity accounting and how this may affect your practice's compliance in your year-end financial statements.
Specifically, the eBook covers:
Understanding the accounting rules for charities
Changes to financial reporting for charities
Clarifying amendments
Significant changes
Minor changes
Compliance will be tough if you go it alone
End of year financial reporting
There is more to consider than just the numbers
Trust and technology


To read more about the changes to charity accounting, download our FREE eBook.