Cloud
Checklists can be accessed anywhere, on any device

Checklist Types
All entity type checklists are in the same template. No need to create new files if wrong checklist type is used or entity size changes

Updates
Checklists are updated automatically keeping them up to date whilst reducing IT administration requirements

Authoritative References
Authoritative References intelligently optimise relevant section of the standard being used, company act section or any other relevant legislation

Reviewer Tools
Review:
Hidden procedures

Non optimal answers

Responses to questions after signing them off

Outstanding questions in each section

One Click Responses
One click responses clearly highlight the selected response to users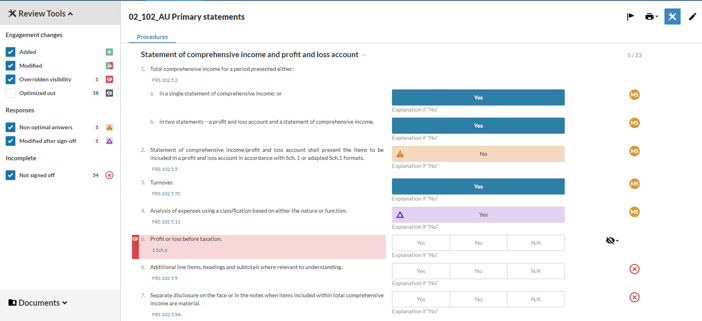 No more paper
Our interactive checklists guide you through a set of tailoring
questions that eliminate unnecessary disclosure
questions, streamlining your accounting process.
The cloud-based software contains the following accounts checklists:
Corporate entities reporting under FRS 105, 102, 101 & IFRS





LLP entities reporting under FRS 105, 102 & 101





Charity entities preparing accounts on an Accruals or Receipts and payments basis





Pension schemes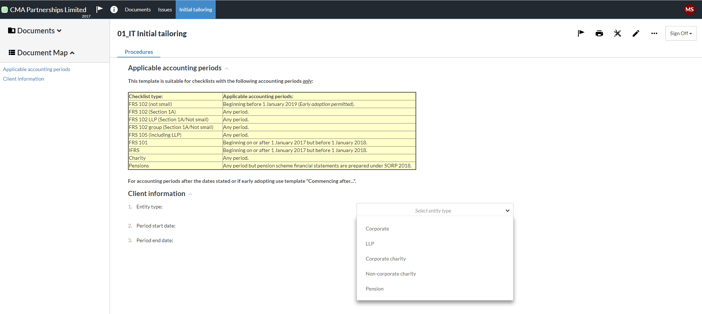 Why the Cloud?
Cloud technology is changing accounting software and how accountants are working. Cloud platforms make data and software accessible from anywhere, anytime from any device without a need for a central hub.
Promoting greater collaboration is clearly key for accounting firms looking to impress prospects or retain clients, and the cloud has great advantages when it comes to promoting real-time collaboration, by allowing firms to review, comment on and sign off files at the same time.
CaseWare's Cloud platform allows sensitive data to be transferred securely online through cloud-based add-on tools - essential in this post GDPR world.
Discover how you can streamline your processes, ensuring your accounts leave your office error-free, saving you time and money using the form below.