How Will GDPR Impact Accountants?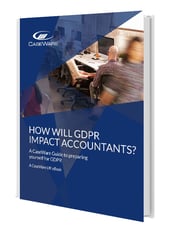 GDPR will likely require new policies and procedures for how you handle and process personal data. Are you prepared for the introduction of GDPR and the changes it will bring to you and your business?
In this eBook, we explain the immediate considerations you need to understand for GDPR and what you can do to use the introduction of GRPR to your advantage.
In this guide we cover:
Getting your house in order
Getting educated
Assessing your own processes
Consent - what is the Status Quo?
Understanding individual's rights
To access this information, along with more tips on how to get compliant for GDPR, download our FREE eBook.